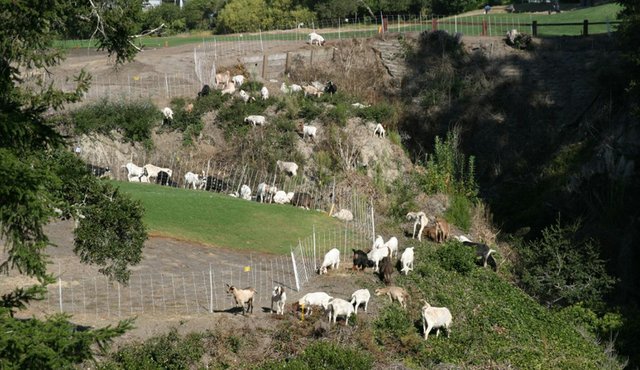 Courtesy Paul Chojnacky
Goats wander the canyons at Pasatiempo.

By Julie Williams
October 26, 2010 2:57 p.m.
Archive
When officials at Pasatiempo Golf Club in Santa Cruz, Calif., began looking through old photo albums of their classic Alister MacKenzie design, they had the idea to return the course to its roots. That meant clearing 80 years' worth of non-native plant growth (such as pampas grass and acacia trees) from the surrounding canyons and barrancas. With terrain too steep for groundskeepers to traverse with heavy brush-clearing equipment, superintendent Paul Chojnacky called in four-legged backup.
That's right: Release the goats.
With 150 large-bodied meat goats wandering the canyons, the landscape is rapidly changing at Pasatiempo. The first herd arrived at the end of September, and already the goats have exposed peaks and ravines that were in hiding since the 1920s and '30s. Chojnacky expects the goats to clear about 12 acres total, digesting their way through the canyons – without disrupting play – at a cost of a little more than $1,000 per acre. The requisite manpower and machinery would cost roughly 10 times that, Chojnacky said.
Not only are goats cost-effective, but they're also erosion friendly. Unlike sheep, goats won't tear the entire root from the ground, experts say, and the animals' hooves help compact the soil, unlike a team of groundskeepers. The goats are corraled by electric fencing and guarded by Anatolian shepherd dogs.
"Our property is definitely unique, so it's not like a lot of people can utilize this," Chojnacky said. "But definitely, in this area where the terrain is a lot of elevation change, it will definitely make a mark."
Terry Hutchens, extension goat specialist at the University of Kentucky, notes that employing goats for brush clearing is a West Coast idea making its way east. But then, so are goats.
"It's been used in the West for years, but east of the Mississippi River, it's a phenomenon," said Hutchens, who predicts that using goats for brush management (on golf courses or otherwise) will be common practice in 10 years.
For the past two years, Hutchens has been involved in a student research project that introduced goats to three landfills located on Bluegrass Station, a former Army base in Fayette County, Ky., now operated by the state. Groups of four goats first were released in quadrants slightly smaller than a half-acre to assess their land-clearing capabilities. The project was taken one step further when goats ended up at Avon Golf Course, a public nine-hole facility on Bluegrass Station, on a two-month trial basis.
Avon superintendent Don Davis said the four goats that arrived on site were instrumental in clearing areas where fallen trees from winter ice storms had made mowing difficult.
"Had I tried to get my mowers down in there, I could have torn something up," Davis said. "Thi...